Imagine enjoying delicious, nutritious, locally raised, and ethically produced meat whenever you wanted, without the hassle of a trip to the farmers market or the hefty price tag at a high-end grocery store.
That's what buying meat in bulk is all about. Ordering beef, pork, lamb, chicken, and other meats by the quarter, half, or whole animal is an excellent way to save time and money. It also better connects you to your food, the people who produce it, and a more traditional and holistic way of eating.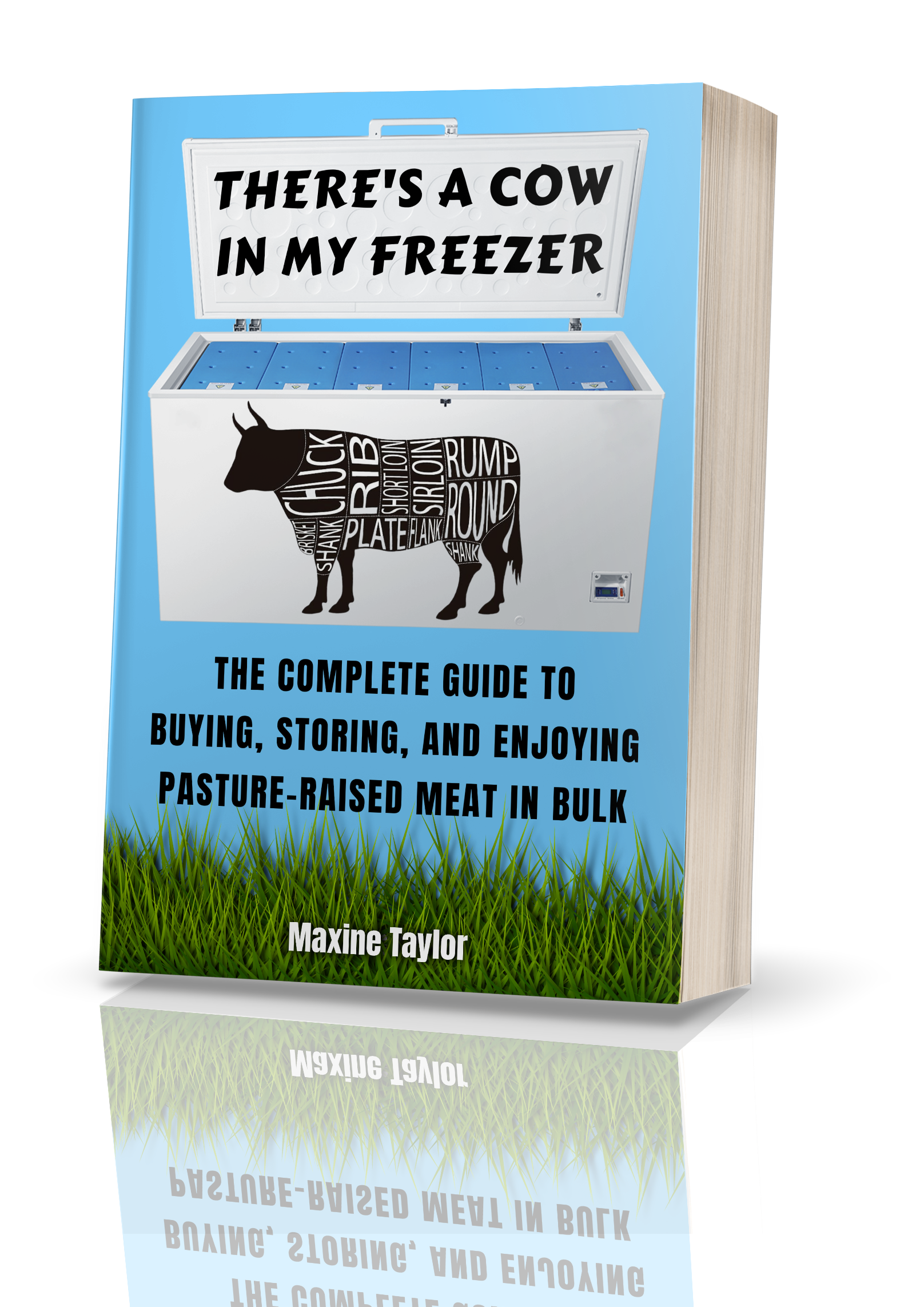 Interested in buying 5+ copies of the book? Discounted wholesale pricing is available. Please email the author.
Based on years of research and the firsthand experience of a health editor who's been eating this way since 2011, There's a Cow in My Freezer is an easy-to-follow, step-by-step guide that walks readers through the entire process of buying meat in bulk. You'll discover:
… plus much, much more.
If you've ever been curious about buying meat in bulk but didn't know where to start, or felt overwhelmed or intimidated by the idea of whole-animal eating, then this book is for you!
Maxine Taylor is a health and wellness acquisitions editor, freelance content developer, and lover of all things tasty.
Since purchasing her first quarter beef in 2011, she's become an outspoken champion of the "whole animal" way of buying and enjoying local, humanely raised meat. Her goal is to show everyone how easy and rewarding this traditional way of eating can be. She holds degrees in literature, history, and professional writing from the University of California, Santa Barbara, and is a certified technical writer and instructional designer. Maxine currently lives in Portland, Oregon.
Get more on the There's a Cow in My Freezer blog
Stock up on helpful tips, delicious recipes, insightful interviews, and much more.
Located near Birney, Montana, the Bones Brothers Ranch, home of Omega Beef, Inc., has been worked by the Alderson family since the late 19th century. Today, Jeanie Alderson and her husband Terry Punt oversee the ranch. They raise purebred, grass-finished Wagyu cattle — the same breed that produces world-famous Kobe beef. I sat down (virtually) with Jeanie to learn about the joys and challenges of keeping family tradition alive.
Although nowhere near as popular as beef or pork in the United States, lamb is both delicious and nutritious — at least, the right lamb is. And, for those with little space to spare, buying lamb in bulk is an excellent option, as the meat from a whole lamb can easily fit inside a standard fridge freezer.
One reason people may be reluctant to buy in bulk is the fear that if the power goes out and their freezer stops running, they'll lose all that food (and money). When doing the research for There's a Cow in My Freezer, I'd read that, if kept closed, a reasonably full chest freezer should keep its contents frozen for at least 48–72 hours. It sounded reassuring on paper, but last month I got to see if that's actually how things work in the real world.
What people are saying about the book
As an organization that represents 75 pasture-based farming operations across the state, the Oregon Pasture Network believes Maxine Taylor's new book There's a Cow in My Freezer could not have come soon enough … From freezer layout to finding the right farmer fit to cooking the less common cuts, this book answers many of the questions that farmers in our network get asked all the time. Taylor also does a good job of pointing out where her suggestions can be adapted and changed for different living situations or household incomes. A customer with this book in hand will be able to get the most out of their purchase, be assured that the meat they bought is raised the way they wanted, and gain access to more local farmers they would never find in a grocery store or farmers markets, since they only sell in bulk. This is the perfect gift for the budding foodie or locavore in your network who is looking to bring their knowledge of local and sustainable food to the next level.